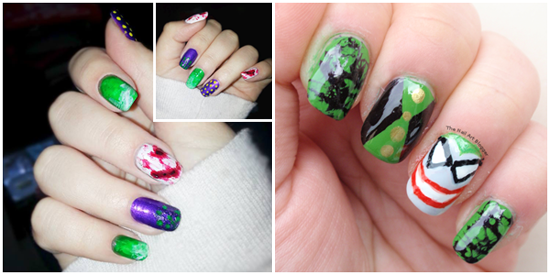 Mani-Swap Time ! :D
♠︎ Hi people ! ヽ(*・ω・)ノ
Well, I think this is the actual first time I am in fact updating my blog with some Nail-Art, as odd as it is. It's been one passion of mine since I was little really, as far as I can remember I've always been interested in anything nail related. I've been starting doing Nail-Art surprisingly late though (maybe around 17/18 at first, but only 'seriously' after 20 probably.), so in the end my level is sadly pretty average and I think I honestly tend to be creating really simple designs (while I adore excentric things with a never-ending love and passion lol).
You can actually see it on the banner of this blog since a long while now, I am quite the girly girl even though I just don't consider myself to be so. The thing is I nearly only wear dresses and skirts, owns hundreds of Makeup/care products, even more Nail polishes and Nail-art items AND... Tons of shoes. Yup. … ⎛ ㅠㅅㅠ⎞
⥥
♠︎ Anyways ! I'm off topic as always. Here's a little thing me and my friend @ The Nail Art Blogger did. I honestly have been kinda lazy regarding Nail-Art recently and somehow while actually speaking of that one topic, she offered a Mani-Swap for motivation, which pretty much really motivated me. (XD)
The chosen theme was DC Comic's Joker and the main colors were purple and green. Here's a picture of what she did :
♠︎ I always love what she does to be honest, and this one is no different. I really like the Tuxedo/Joker Face art, I actually wanted to do a similar thing at first but I'm not sure I basically would have managed. OTL My friend did a great job though ! ✌︎
Go check out the full article with more photos and references on her Blog and let her know what you think of her work ! ;3
⥥
♠︎ As for myself, well I opted for something pretty simple and let the inspiration come while doing it. I checked a few stuff online before, then tried going with a precise idea...And as usual I ended up doing something fundamentally different ! Here is the result :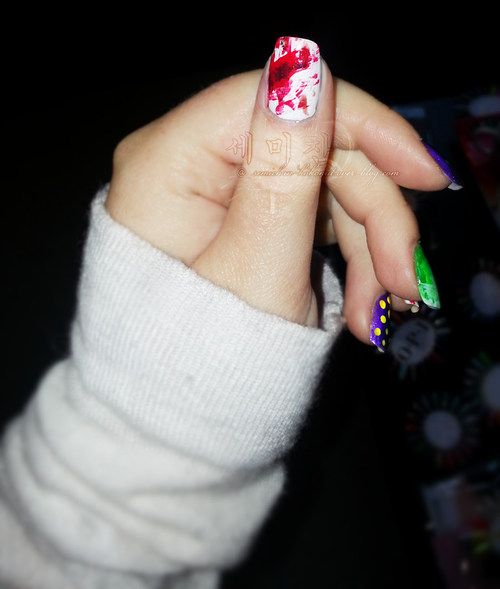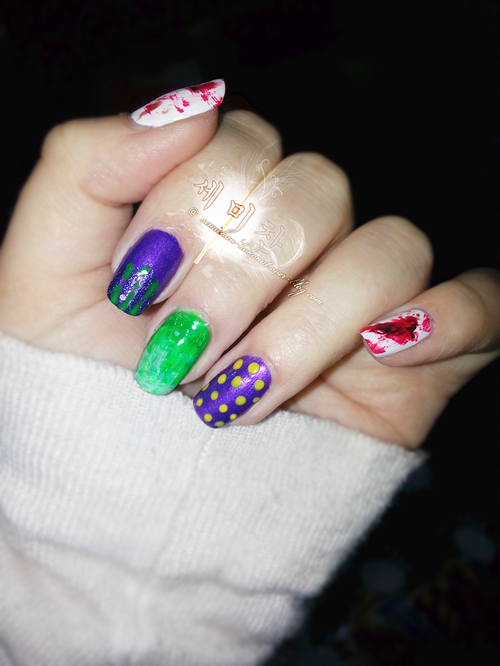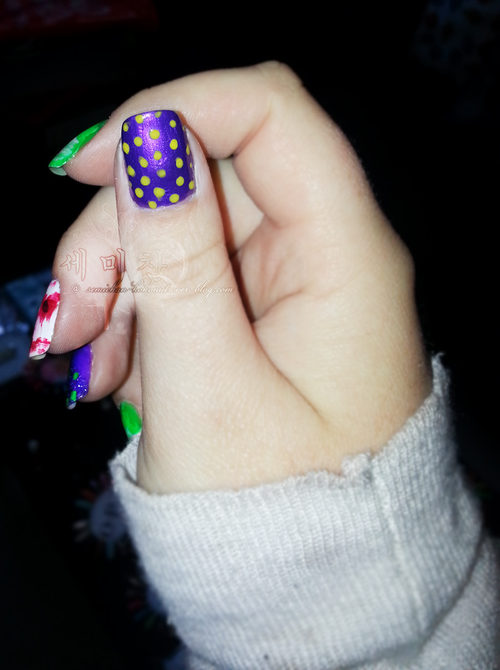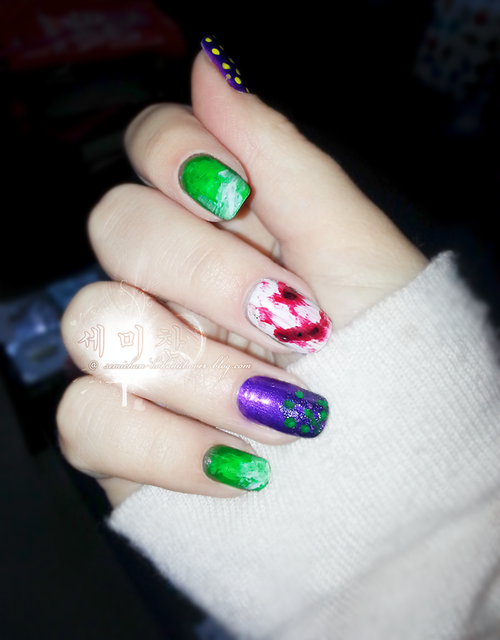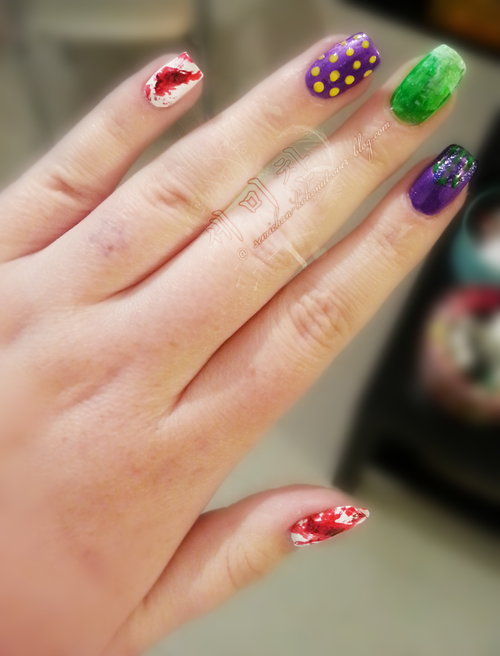 ♠︎ I am astonishingly satisfied with these nails, to say the truth. I think they turned out quite well, especially since I've been using some really old polishes of mine here ! (The purple one is like 10+ old, not even kidding.)
By the way, these are, except for the little tip of Purple Liquid-Sand polish by OPI on two nails, real cheap polishes and they don't even have proper references/and or the labels vanished with the passing years (XD). So all you basically have to know is that :
♤ The white + Yellow ones are from VSL,
♤ Purple and Maroon are from KRYSEIS,
♤ the Green one from MODELITE
♤ and the Red one from DEBORAH.
♠︎ Hope you enjoyed this first (but not last) Nail-Art article, byes for now !
~Semichan